Established in 2005, Kiku Matsu Dojo serves as the headquarters of the Aikido World Alliance (AWA), offering high-quality training in the Japanese martial art of Aikido.  Our dojo also hosts the Chicago Buddhist Meditation Group.

We have classes 7 days a week and on-going students may attend as many classes as they like. Those who would like to get a taste of Aikido are invited to take our 4-week introductory course.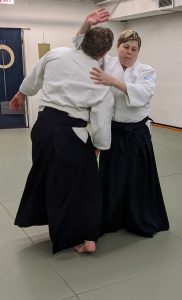 Impulse and Wisdom

Almost all Dojo have maxims (kun), or sayings that help understand and remind a student that awareness and wisdom are to develop in oneself to grow and become.

One such "kun" is "Jojitsu ni Oberezu". Instructor and student are not the same, even if you are friends outside the dojo, it is different inside the dojo. Protocol and manners are enforced and expected inside the dojo. We must train seriously with the thought of "ichi go Ichi e", a term from Japanese tea ceremony but used widely by a martial arts student. So those two sayings combined givel the sensei and the student important direction. You as a sensei may die tomorrow, or the student may stop training tomorrow. So, we must always reflect and be aware that this time may be the last time you give instruction or receive teachings. We must carefully observe our teacher's instruction and train earnestly as once the class is over it is gone.

They say a "free man masters his impulses; a slave lives to serve them". In hard or difficult times of stress will your impulses rule your behavior, or will the training prevail? Our ability to maintain discipline and control may mean the difference between life and death. Through our training we gain knowledge, which provides all of us with potential. When that knowledge is applied it becomes power, not always for the better. Understanding why and when to apply that knowledge is what becomes, wisdom.

Andrew M. Sato June 2022
Chief Instructor ~ AWA
www.aikidoworldalliance.com ... See MoreSee Less

Welcome to the Aikido World Alliance We are an international association of martial arts schools, teachers, and students devoted to the transmission and preservation of the traditional martial art of ...
Load more